Our Testimonials
While we believe EZ Air Conditioning and Heating is the best HVAC company in the San Antonio area, we would rather let our customers speak for themselves! We appreciate these testimonials confirming our dedication to excellence in the heating and cooling business, and we're prepared to show you the same superior service mentioned here.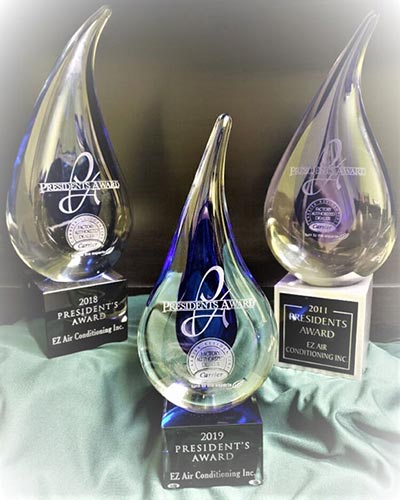 "I have been a customer for 15 years. EZ also takes care of my office building. They are second to none with regard to customer service and responsiveness. Thank you Enrique and team for all that you do!"
"Very happy with the job done. I had my home A/C units replaced and upgraded to more efficient ones, Part of the ductwork was fixed, replaced, sealed, and repaired. Now for the first time since I built this home it feels more comfortable. Just the way it should be. EZ Air also gave me a fair price with different options to choose from. No pressure sales, just the facts. I am grateful to Mr Enrique for his insight, recommendations, and ideas to really have a more comfortable home. It was a blessing to find a contractor that I could trust and able to address my concerns and worries about the project. I thank Mr Enrique, Mr Jonathan, and his team to come to the rescue when my units were not working properly with no heat when the temperature were very low. My gratitude forever for a professional job in all respects."
"I have used EZ Air for annual equipment check ups and for repair service. They are courteous on the phone and schedule appointments quickly. The service technician calls when he is on the way, and arrives on time. The work is done well, and explained thoroughly.
Everyone I have had contact with at EZ Air has been a pleasure to work with."
"Our Carrier AC compressor seized on a nice balmy afternoon, so I called around for quotes to replace it. Rosalinda called me back with a thorough quote including both types of Freon and labor only for replacement under warranty. We scheduled the repair for the next day. Chris and Jaime called ahead of their visit, were on time and had the compressor changed out and system running in a couple of hours. Great service! We'll definitely call EZ again if we need AC service in the future!"
"I hate to say it, but I'm not one to write a lot of reviews. Typically, I will only write one if the service is over the top great or just plain horrible. I must tell you, E-Z A/C is great!
Over the past 15 years, we've used three to four different a/c companies. We discovered E-Z Air about two years ago and have been very happy with them. Although it's a smaller company, you wouldn't be able to tell as they provide "Big" service.
We have an Infinity A/C System from Carrier. Many a/c companies weren't trained to work on it. The two technicians, (Chris and Jaime) that typically service (maintain) our system E-Z are both qualified to work on it.
I just had the E-Z Air Conditioning guys out to replace our receiver boxes…they did a wonderful job at a great price!
Give them a shot at your heating and a/c work. You won't be sorry!"
"I had a wonderful Experience with the team at EZ Air & Heating. They worked with me to install a complete replacement of my old system. They exhibited great professionalism from the start and I was really impressed with their team and how diligently they work. Enrique and his whole team are very courteous from the start. They took care to clean up after themselves and to install a Carrier product that is so much more efficient than my previous system. They will design a system that suits your needs. Wonderful Job!"
"I highly recommend this company. They installed my AC unit in 2003 and it's still working great. They also perform yearly maintenance in summer and winter. Very reasonable!"
"I have been using EZ Air Conditioning and Heating for a few years now and find them to be one of the best AC companies around this area. Thanks for been responsive to your clients and doing a great job when you come out to service AC systems. Keep up the good work."
[recentreviews showmap="yes" count="10″ zoomlevel="9″]
Average Review Rating
Average Rating: 5
Total Reviews: 5
List Of Reviews
By:
John M.
on
EZ Air Conditioning and Heating
EZ gets extra marks for value and quality for the money. I'm happy and comfortable. Thanks EZ and kudos to Jaime for his professionalism and his customer service skills. I will keep their number handy.
San Antonio, TX
By:
Gabe R.
on
EZ Air Conditioning and Heating
It's an older home and the job was tricky but they did a wonderful job, I definitely will follow up with this company for routine maintenance going forward.
San Antonio, TX
By:
Tania T.
on
EZ Air Conditioning and Heating
If you want great customer service, great technicians, and affordable prices you must contact them NOW!. Thank you EZ.
San Antonio, TX
By:
Hadassa S.
on
EZ Air Conditioning and Heating
I would like to thank the EZ team for helping my parents with there AC system. I highly recommend them.
San Antonio, TX
By:
Rosalind L.
on
EZ Air Conditioning and Heating
Gerardo A., came to my home, identified the problem, informed me of the solution and repaired it. Plus, he patiently answered all my concerns. They are now my go-to Company for Heating and Air Bonus points for the price being reasonable!!!
San Antonio, TX