Choosing the ideal heating system for your home is essential to your comfort and can even help you save on energy costs. Those who are living in moderate climates don't need as much heating as those who are in the northern regions. Heat pumps have become popular in these areas, especially warmer climates.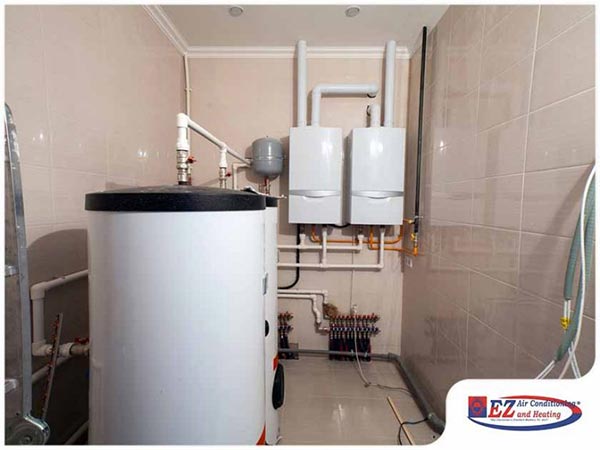 Read on to learn the benefits of choosing a heat pump over a resistive heater.
What Is a Resistive Heater?
Resistive heaters are 100% efficient because they convert all electricity into heat. However, electricity is usually made from coal, gas or oil generators that only convert 30% of the fuel's energy into electricity. Electric heat is typically costlier than heat produced from combustion appliances due to electricity generation and transmission losses.
A centralized forced-air electric furnace or heaters in every room supplies electric resistance heat. Room heaters can consist of electric baseboard heaters, electric radiant heat, electric wall heaters or electric space heaters.
Electric furnaces are one of the costliest to operate. Because heat travels through a centralized duct system, it needs more energy to work. Also, more energy loss occurs in duct heating systems due to air leakage.
Moreover, electric baseboard heaters are zonal heaters run by thermostats in every room. HVAC technicians usually install these heaters beneath windows where rising hot air meets the cold air entering from the window glass.
What Is a Heat Pump?
It may not be apparent, but temperatures more than absolute zero have heat. It means that it may feel cool outside, but heat is still present. Heat pumps utilize electricity to circulate heat around your home, helping you stay comfortable in the cooler months.
In winter, heat pumps move heat from outdoors into your cool house, and, in summer, they move heat from your home into the outdoors. Because heat pumps move heat instead of producing it, they can cool or heat your space for as low as a quarter of the cost of running standard heating or cooling appliances.
Since heat pumps generate heat from the outside air to condition your home, their energy efficiency depends on the climate outside. This is why heat pumps are more efficient at converting electricity into heat in moderate climates. On the other hand, the efficiency of this equipment reduces in colder climates since it needs to work harder to produce the same amount of energy that usually would in a warmer climate.
Types of Heat Pumps
Ductless Mini-Split Heat Pump
A mini-split system significantly reduces energy consumption and minimizes energy loss through the ducts. This type of heat pump doesn't need ductwork – the reason it is called a ductless system. Among all the other types of ductless systems, mini-splits are easier to use and more convenient. Some types of ductless systems use an external heating source, such as space or water heaters that utilize propane or kerosene. With a mini-split, you can enjoy the perks of a ductless system without the risks linked to external heating sources.
Air Source Heat Pump
An air source heat pump can efficiently heat and cool your home. It can give you up to three times more heat energy than the electrical energy it uses when properly installed.
Geothermal Heat Pumps
Also called earth-coupled, water-source or ground-source heat pumps, geothermal heat pumps utilize the constant temperature of the earth as the exchange medium instead of the outdoor air temperature.
Which Is More Efficient?
Heat pumps are the most energy-efficient in most climates in the country. Compared to electric resistive heaters, they can even reduce your energy consumption by up to 50%. High-efficiency heat pumps can cut down your home's humidity levels better than a conventional air conditioner. This means lower energy use and better indoor comfort during the warmer months. Heat pumps are also low maintenance and have no emissions. You can even get your tax credit for using the equipment.
The cost of installing and running various kinds of heat pumps vary. For instance, geothermal heat pumps have higher installation costs than air source heat pumps. This is because, with ground-source heat pumps, you need to dig down to a heat source, and it involves more complicated heat transfer systems. The terrain on your property can also affect your project's cost.
Operational and maintenance costs of a heat pump vary depending on the type of system. A ground-source heat pump costs less to run because ground and water have a relatively constant temperature, allowing the heat pump to work efficiently. This type of heat pump system is also not exposed to the outdoor elements, helping reduce wear and tear. Meanwhile, air source systems are easier to access and repair, but they require more maintenance since they are exposed to outdoor conditions.
What to Look for in a Heat Pump
Energy Efficiency
The Seasonal Energy Efficiency Ratio (SEER) determines the cooling efficiency of air source and ductless split systems. For new homes in the Northeast, Midwest, Mountain States and Pacific Northwest, the minimum is 13 SEER, and, for the rest of the country, 14 SEER is the minimum. On the other hand, the heating efficiency is measured by the Heating Seasonal Performance Factor (HSPF).
If you live in a warmer climate, you should find a heat pump with a higher SEER. The American Council for an Energy-Efficient Economy (ACEEE) recommends purchasing a heat pump that's more than 15 SEER and 8.5 HSPF.
Moreover, the cooling efficiency of geothermal heat pumps is rated by Energy Efficiency Ratio (EER) while its heating efficiency is rated by the Coefficient of Performance (COP). Depending on the type of system, the federal EER minimums are 17.1 to 21.1, and COP minimums are 3.1 to 4.1.
Size
Another thing you should consider when choosing a heat pump is size. Undersized or oversized equipment would affect your indoor comfort and increase your energy consumption. For instance, if the unit is too big for your home, it will cycle on and off many various times, reducing its lifespan.
A skilled HVAC contractor can help you choose the ideal heating and cooling system for your home. For quality air conditioning repair and installation services, turn to EZ Air Conditioning and Heating. Call us at (210) 558-7883, or fill out our contact form to learn more about our services.