Most people who own a pet consider the pet a part of the family. The most popular household pets are dogs, followed by cats. About half the people who have a dog or a cat allow their pet to stay indoors, with many owners even allowing their pet to sleep right next to them.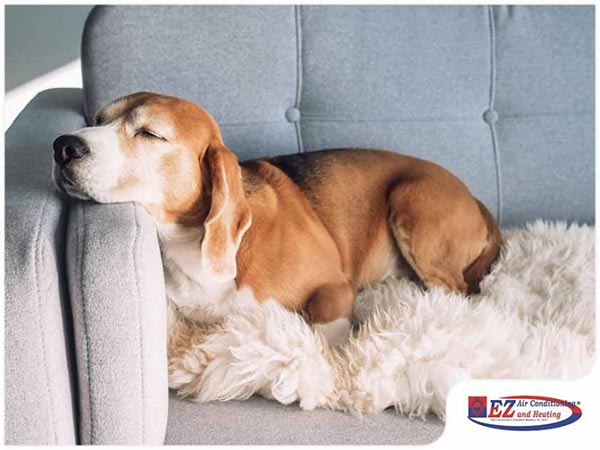 While people should treat their pets with love and dignity, and allow them to enjoy the best that life has to offer, those pets do have fur, and that's an indoor pollutant. Pet ownership leads to the presence of dander in the air and just about everywhere in your home.
While pet dander can lower the quality of your indoor air, there are ways to manage it so you can still enjoy your furry friend's company. Here are some simple pieces of advice:
Use an Air Purification System
Your pet moves around your home just like you do, so its dander can land on everything in your home. It can also get sucked into your HVAC system and distributed into every room in your home. What you can do is get a whole-home air purification system.
Don't buy the first system you find. It's a good idea to do your research first and compare different models. Strike a balance between your budget and the effectiveness of the system you want. There are air purification systems that are effective enough to remove up to 99.9% of all particulate matter in your indoor air, including pollen, dust and, of course, pet dander. Get one that also removes household odors, including the smell from your pet.
Vacuum Your Home, and Bathe Your Pet
Even if you already have a whole-home filter installed, it's still important to regularly clean your home and give your pet a bath.
For cleaning your home, use a vacuum cleaner with a true high-efficiency particulate air (HEPA) filter, which can remove pet dander from your carpets and floors. If you can, vacuum your home every two days or at least once a week. Replace dirty rugs and floor mats, and wash them weekly as well.
Have your HVAC air ducts cleaned by a professional at least every two to three years. Clean your home more often in winter because you'll likely keep your windows and doors shut during this time.
As for your pet, choose a veterinarian-recommended shampoo for the type of dog or cat you have. Schedule a regular bathing routine, and take your pet to the groomer's now and then for a cut. Dry your pets' fur with a towel and a blow dryer, making sure to brush away loose dander before letting them back into the house.
Keep Your Bedroom Off-Limits to Pets
It's a good idea to buy a bed for your pet instead of letting it sleep in yours. The effect of dander on your health might not be immediately obvious, but you can still become allergic to something you've been exposed to for a long time.
EZ Air Conditioning and Heating provides air condition repair and inspections. We can check your equipment for pet dander accumulation. Get in touch with us at (210) 558-7883, or schedule an appointment with us here.