Typically used in air conditioning installation for light and large commercial buildings, and one of the most preferred types of HVAC in the industrial and the retail industries, packaged rooftop units (RTUs) have the HVAC components in one compact unit. An RTU is a large metal box capable of providing conditioned air to rooms of different sizes.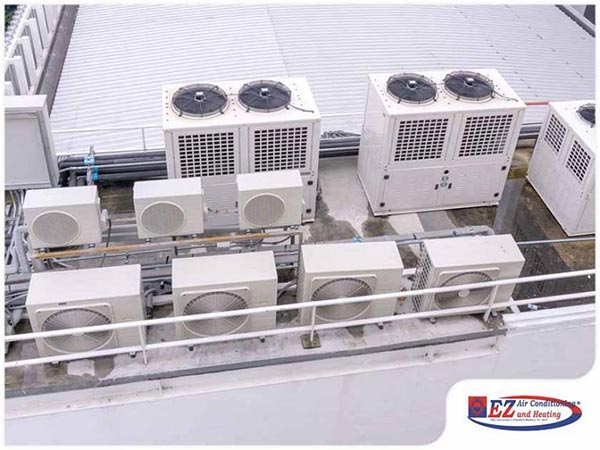 A typical RTU contains the compressor, the expansion device, the air-cooled condenser and the evaporator in a single box. During installation, the technicians connect the RTU to a ductwork system for effective distribution of conditioned air to the room and also for returning the air to the RTU.
How an RTU Works
A cooling provider installs the RTU and connects it to the ductwork system. Through the air ducts in the room, air is returned to the RTU, passing through the system. In some cases, a mix of outdoor air and return air from the room is blown through the ductwork system back to the space. This combination of outdoor and return air produces fresher air.
The air is passed through a rack of filters, and then it moves to the cooling coil. The cooling coil runs the air over the refrigerant. A standard refrigeration cycle is responsible for cooling the refrigerant. After the air passes over the refrigerant, where it is cooled, it flows through the blower. At this phase, the air remains conditioned and ready for delivery into the room through the ductwork.
There are RTUs that use small heating elements right next to the blowers. These heating elements serve to make further adjustments to the air's humidity levels.
RTU Variations
Depending on how the RTU is installed, it can be controlled with a basic thermostat or with a more complex system.
There are different types of RTUs as well. There are RTUs that return only air from the space for cooling while there are others that combine the indoor return air with outdoor air.
There are also others that only blow in 100% outdoor air into the room for cooling, which means they don't depend on return air at all, but on the air coming from outside the building. These are called makeup air units or 100% dedicated outdoor air units. To install an RTU of this type, technicians need additional parts and insulation. These RTUs might also need more energy.
EZ Air Conditioning and Heating is an air conditioning and heating repair and installation company. We install packaged rooftop units for commercial applications. Get in touch with us at (210) 558-7883, or schedule an appointment with us here.