When you start having issues with your HVAC system, you can sometimes resolve the problems on your own. For instance, if you feel like your indoor air quality seems stuffy or is triggering allergies, it may be time to change your air filters. Proper care and maintenance by certified heating and air condition service contractors should also help in identifying and addressing some of the minor problems your system encounters.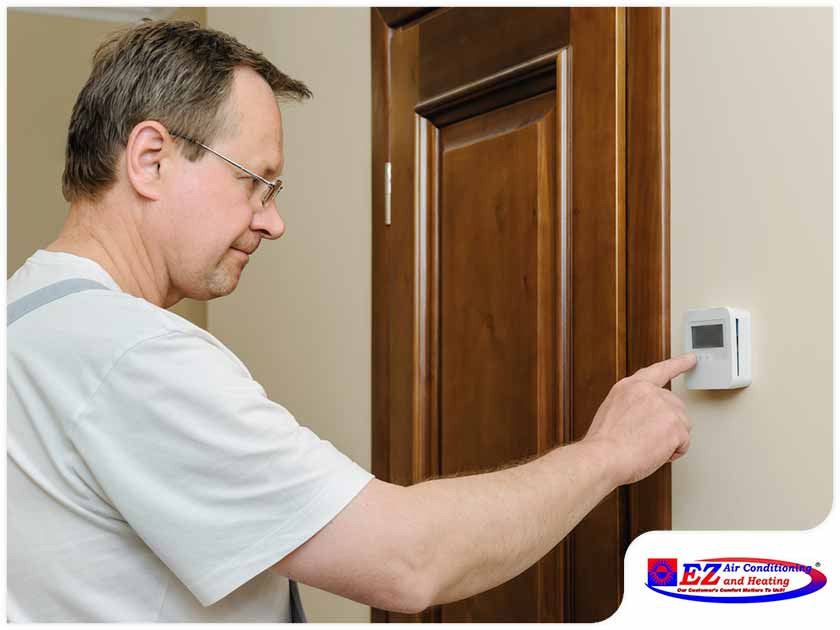 But as for other components such as your thermostat, should you also consider an upgrade? Most professionals recommend upgrading it along with your HVAC system every decade or two. Choosing whether to upgrade your thermostat will also depend on other factors that are sometimes unexpected. If you're having second thoughts, keep in mind that a thermostat upgrade is an inexpensive investment that goes a long way in making your home more energy-efficient.
Remember, no matter how modern your HVAC system is, you won't be able to maximize its efficiency without a good thermostat. You can always consult with our air condition service contractors at EZ Air Conditioning and Heating as they can check your thermostat and help you make an informed decision.
How Do Thermostats Work?
A thermostat is made to take an accurate reading of your home's ambient temperature. It will use that reading to activate your HVAC system depending on the setting that was inputted. The technology behind the modern thermostat has come a long way from when it was first introduced in the early seventeenth century when it was just a simple device that had a float in a mercury thermometer. This was connected to a damper cover on a furnace, and when the mercury climbed to a certain level, the float caused the damper to close.
When to Replace Your Thermostat
You don't always have to wait until your current thermostat becomes faulty beyond repair to replace it. Some homeowners tend to change their thermostats around the same time as when they replace their climate control systems. Others can also choose to upgrade their current thermostat while also keeping their current HVAC system. The common reasoning behind this is that newer thermostats offer better convenience and efficiency through upgraded features and technology.
It's still better to talk to your trusted HVAC contractors about changing your thermostat as they can offer the best options that are compatible with your system and its usage. There are many types of thermostats to choose from, and while they may offer the latest features and technology, it won't always mean they can effectively maximize your system's efficiency. It helps to know what to expect in each type of thermostat, including the unique benefits they provide for your home.
Common Types of Thermostats
Should you decide to change your current thermostat, consider switching to a model with more features. Some of the most common types of thermostats include:
Programmable thermostats: These help you set the right temperature in your home at the right time to keep your home comfortable. They work by adjusting automatically according to preset times to help you conserve energy as you use it. A programmable thermostat can minimize the temperature when you and your family are out and maximize it when you're at home.
Smart thermostats: These work similarly to programmable thermostats, but the reason why they're "smart" is that they can learn from how you use your system. They can be scheduled to adjust the temperatures according to when the home's empty and when everyone is inside. Another reason why they're known as smart thermostats is that they can be controlled from almost anywhere as long as you have the mobile app installed! This is standard with all smart thermostats, which means you can turn the heater on while you're out so that you can enjoy your home's warmth as soon as you arrive.
Why You Should Replace Your Thermostat
Putting off your thermostat replacement can result in several consequences that can affect your HVAC system. Just like the rest of your HVAC system, your thermostat will be routinely maintained by your trusted heating and air condition repair contractor. However, it's still subject to slowly wear out over time and become increasingly inefficient. Some of the biggest reasons why you should replace your thermostat include:
Improved Energy Efficiency
Your thermostat will eventually become less accurate in reading your room's temperature levels, leading to your system to consume more energy than what's necessary. Wear and tear can also affect your thermostat's "dead zone", which is the temperature range where it activates. This zone gradually becomes wider over time, and you'll end up with not just higher monthly energy bills, but also decreased indoor comfort!
By switching to a more modern thermostat, you can effectively cut back on your monthly energy bills. Programmable thermostats, for instance, can help you achieve the right temperature levels, and you'll still save on annual energy bills by as much as 15%!
You're Adding a Zoning System
Zoned heating and cooling systems divide your home into separate areas that are controlled with their settings and times. Zone controls allow thermostats to open and close dampers to adjust the room's temperature and maintain comfort. If you're planning to do this in your home, you'll need to use a specific type of thermostat. That usually means replacing your current thermostat to ensure you maximize the benefits offered by zoning systems. Talk to your trusted HVAC technicians about how they can install a zoning system in your home!
Better Convenience
You might think that it's still fine to manually change your home's temperature settings every day, but this can be tedious, and there's always a chance that you'll forget. Having to adjust your thermostat before you leave and after you get home can also become tiring even if it's to ensure your HVAC use stays efficient. By upgrading your thermostat, you can choose from a broad range of models that have great features and benefits. You'll have better ease of use without affecting your HVAC's operability!
If you're looking for the best thermostat installation and air condition service company in the area, don't hesitate to call our team at EZ Air Conditioning and Heating. Contact us at (210) 429-9186, or fill out our convenient online contact form to get started. Talk to us today!