The weather isn't quite cool enough for us to start using our heaters on a regular basis yet, but you'll be doing so shortly. If you have a heat pump, this entails changing the system from cooling to heating mode.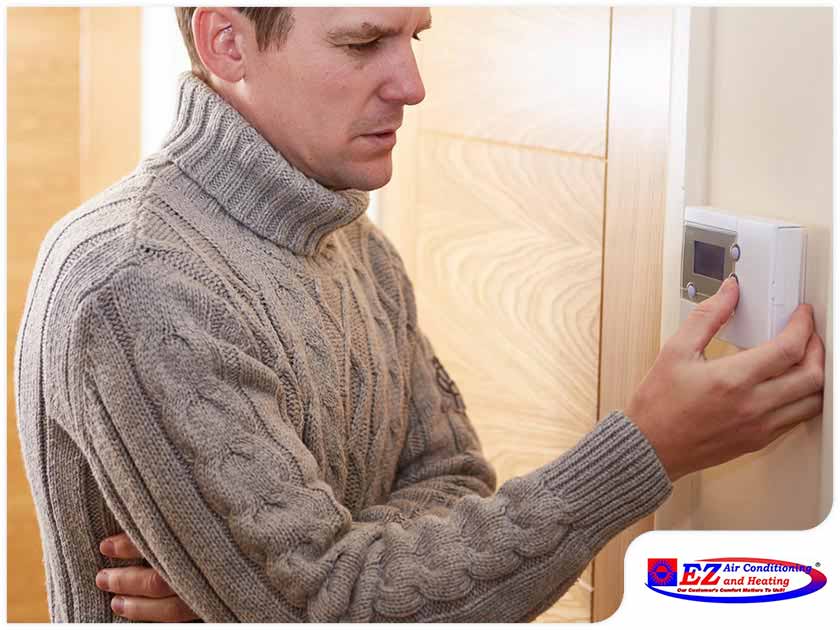 However, what if you're utilizing a heat pump that just blows chilly air?
If this happens, the first thing you should do is double-check your thermostat to make sure your HVAC is set to heating mode. This may sound obvious, but there's always the possibility that a family member turned it back on because that person enjoys a different temperature than you.
If you've tested this, and your heat pump is still pumping cold air when you switch it to heat, it's likely that, despite what your thermostat says, your heat pump is locked in cooling mode. But how does this take place?
Continue reading to understand more about this issue and what might be causing it.
Reasons a Heat Pump Won't Switch Modes
Thermostat Problems
Another possible cause of a blocked heat pump isn't technically an issue with the system itself, but rather with the thermostat that controls the system. It is possible that bad wiring is causing your thermostat to lose connection with the heat pump, and as a result, it is not receiving the signal that the system should begin heating.
This component should never be disregarded because it serves as the brain of your system. When your heat pump suffers problems, it is possible that the issue is not with the system itself, but rather with your thermostat.
The good news is that this will most likely be a much simpler and less expensive solution for you! However, you should seek professional air condition service advice before concluding that this is the cause of your symptoms. Despite the fact that thermostats are little components, they contain a significant amount of wiring and can be hazardous to work with if not handled properly.
Refrigerant Leak
A heat pump system is designed to have enough refrigerant to operate for the duration of the system's lifespan when it is first installed. Refrigerant does not drain in the same way that gasoline depletes from a car's tank. It is part of a closed-loop system and is recycled over the course of several years.
After all, what if the air that is blowing through your vents isn't chilly or hot, but rather moderate in temperature? It is possible that your heat pump is not stuck in cooling mode at all, but rather that you have a refrigerant leak in this situation.
According to air condition repair experts, when your heat pump is operating in cooling mode, the refrigerant travels through the system's exterior and interior components. It collects heat from the inside of your home and expels it to the outside, all while going through a procedure that allows cooled air to be introduced into your house. As soon as the unit is switched to heating mode, this process should be reversed by a component known as the reversing valve, which allows the refrigerant to flow in the opposite direction.
If you have a refrigerant leak in your heat pump, it's possible that the system isn't genuinely stuck in one mode or the other after all. A heat pump cannot properly perform its function unless it has the necessary amount of refrigerant in it (known as the refrigerant charge), and as a result, you will not feel the cooled or heated air that is meant to be coming out the vents.
Broken Reversing Valve
For the most part, the most typical reason for a heat pump to remain in cooling mode (or heating mode, for that matter) is that the reverse valve has failed. One of the reasons that your heat pump can switch back and forth between cooling and heating mode is that it has the ability to change the direction in which refrigerant flows through the system when it is operating in either mode.
This is accomplished by the use of a reversing valve, which is installed in the refrigerant line. There are four places on this four-way valve, which is controlled by a slide that slides back and forth between the positions. The system is in cooling mode when one of the switches is pushed and heating mode when the other is pressed. The solenoid, which is a type of electromagnet, is responsible for the back and forth movement of the slide.
Problems That Can Afflict the Reversing Valve
There are normally two primary faults that can cause the reversing valve to become stuck, and as a result, the heat pump becomes stuck in either the heating or cooling mode.
First, it is probable that the slide has become trapped in the valve. If this is the case, all that is required is that a professional air condition service provider open up the valve and reset the slide in order to restore it to proper working order.
Second, it's likely that the solenoid has lost its charge, which prevents the heat pump from moving the slide to switch between modes. If this has happened, the only thing that can be done is to completely replace the solenoid.
The good news is that a faulty reversing valve is usually a straightforward repair for a technician. In most cases, they will replace the old valve with a new one, and since new reversing valves are an inexpensive and ubiquitous component, you can usually rely on your HVAC provider to have one on hand for a rapid remedy. Having said that, there is absolutely no reason to put off calling for repairs!
Get This Issue Addressed Right Away
One of the most significant advantages of owning a heat pump is that it can be used to both cool and heat your home. When one of these critical functions is lost from your system, the consequences can be disastrous for both your budget and your comfort. Allow EZ Air Conditioning and Heating to come in and do what needs to be done, rather than attempting to fix things yourself or hiring an amateur to look at them for you.
Give us a call at (210) 429-9186, or fill out our online contact form to receive a free estimate on your project.